It's that time of year again when stores are stocking up on the latest and greatest Halloween costumes, all with the intention of selling them to parents of adorable children in preparation for trick-or-treat night in the neighborhood.  Although the majority of costumes sold are for people, there are so many that are actually purchased to dress up the family pet.  Let's take a look at some of the funniest dogs and cats dressed up in Halloween's finest!
This group of dogs better have won some kind of contest because they are just too cute!  Not only did they behave long enough to get dressed up, they even posed for a perfect picture…
Although this cat does not look thrilled to be dressed up as a pumpkin, the picture sure turned out to be a keeper…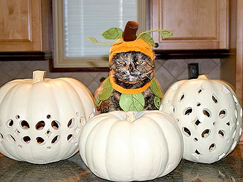 You don't really expect me to go out in public like this do you?…
I wonder if this cat has any idea what he looks like, since the goggles seem to make it difficult for him to even hold his head up!…
But I swear I didn't do anything – the toilet paper fell off the roll and came out into the family room all by itself!…
Happy Halloween from all of the pets who find themselves the victim of "mommy dressed me up"!  We would love to see pictures you have of your furry friends in Halloween's best, so feel free to post them on our Facebook Page!