LaJolla, CA – It was a spectacular evening of dogs in their Halloween costumes all striving to receive first place prize last Thursday at the Muttropolis's Howl-O-Ween Pawty in LaJolla, Ca.  The Halloween fashion show brought out the best and most original dogs in costume, complete with pictures and prizes.  Muttropolis is a pet boutique where dog owners can find everything from food to accessories and everything in between, and they were thrilled to host the fashion show!
Third place was received by Sashi, who came dressed up as a Corpse Bride.
There was a three-way tie for second place between Meegan, Julan and Angel, who were dressed up as flowers and a fairy.
The first place prize went to a dog named Pia who was dressed as Lada Gaga.
There was even a raffle prize of obedience classes provided by Pawtopia that was won by Sassy, dressed up as an Island Girl!
Here are the rest of the dogs who came to Muttropolis for the Halloween fasion show dressed up in their costumes.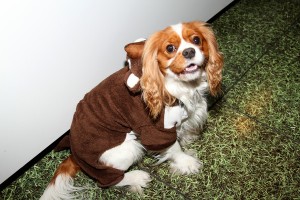 Did any of these photos give you inspiration for dressing up your dog for this Halloween weekend?
Original Coverage of the Muttropolis Hall-O-Ween Pawty
All photo credits go to Robin Dayley.