People often remember decades by the music and wardrobes. The 70s were disco and bellbottoms. The 80s were hair-band and leather. The 90s were flannel and grunge, and the 2000/2010s, well, we're still not sure what time will say about these decades.
But there is another way to differentiate between the decades, and that's to look at what Hollywood and the media told us was the "dangerous dog" of the time.
Today we equate pit bulls as the bad-boys of the canine world, and that label's stuck with them for the better part of two decades. However, prior to the pit bull's emergence as king of the dangerous dogs, a few other breeds enjoyed this honor. Depending on which decade you turn to, you'll be surprised to learn that other breeds got just as much hate mail as the modern day pit bull. An interestingly enough, once a breed got the reputation of being a "bad boy," his stock rose. Many people who wanted a dangerous dog flocked to the breed, as did many people looking to prove that reputation wrong. The same goes for the Pit Bull today. It's got a bad rep, but is becoming an increasingly popular breed, for all the right, and wrong, reasons.
One look at a phenomenal quote by Dog Whisperer Cesar Millan says it all:
"In the 70s they blamed Dobermans, in the 80s they blamed German Shepherds, in the 90s they blamed Rottweilers. Now they blame the Pit Bull. When will they blame the humans?"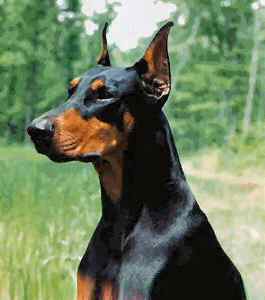 The 70s: The 70s predated the crack war in cities like New York and Detroit. Drug dealers were beginning to get into some heavier inventory, and they needed to look tough and aggressive. Dobermans just happened to be at the wrong place, at the wrong time. Dobermans were overbred (and badly bred) throughout the 70s, so they are nearly synonymous with that decade. Dobermans were attractive to "tough guys" in the 70s because their ears stand erect (which can look intimidating). Yes, some Dobermans, particularly in the 70s, turned aggressive, but that's because their owners made them that way, and bred them that way. Today, Dobermans are more representative of their true nature: energetic, watchful, loyal, and obedient.
The 80s: Dobermans seemed to lose their "aggressive" luster by the time the 80s hit. Perhaps the tough guys realized these dogs would prefer to be loyal and happy rather than vicious killers.
As a result, a new dog breed stole the spotlight as the danger dog – the German Shepherd. This phenomenon was always intriguing because German Shepherds have long been the breed of choice for K9 units. But interestingly, it's their role as trusted cop dogs that helped them become the bad boys of the 80s. You see, those tough guys with Dobermans in the 70s only got tougher in the 80s. But by then, cops were anxious to take back the streets of major cities. Since drugs were a major reason behind most crimes in the 80s, cops had to use the services of K9 dogs to sniff out offenders.
There'd be reports of these dogs finding their "man," and apprehending them, which, when described or captured on film, looks mighty scary. In reality, K9 dogs use force as needed, but not excessively unless told otherwise. Yes, seeing a German Shepherd lunge at someone is a scary sight, but what's impressive is the ability these dogs have to control their instincts and obey command.
The general public began to equate German Shepherds as attack dogs, which led "tough guys" to start breeding them to their advantage (hey, if they're good for the cops, they're good for us). The fact that German Shepherds are unbelievably intelligent and faithful to commands made them an easy breed to train (for good and for bad).
The 90s: Let's add some size into the mix. Rottweilers topped the list of killer dogs in the 90s, but why? Lo and behold, that's because in the 90s, Rotties were the chien du jour (that's dog of the day). They had the darkened sleek look of a Doberman, but even more girth than a German Shepherd. They became the ultimate junkyard dog. There is no question they are a power breed. Their look and size make that obvious. That's why they became so popular among people with less-than-altruistic reasons for owning a dog.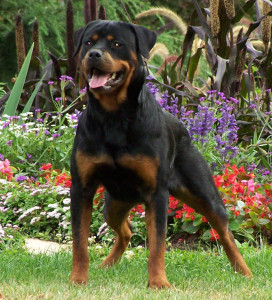 To own a Rottweiler was a status symbol. If you could tame this wild and gigantic beast, you must be a force to be reckoned with. Of course, the reality is that Rottweilers are oversized teddy bears. They are mighty courageous and loyal, and protective of their family, but they're not apt to attack on a whim. They'd rather keep the peace. To be a watchdog (as Rotties are great for) doesn't equate to being an attack dog. Those are two separate entities that the media, and Hollywood, has misrepresented, which is unfortunate for Rotties.
Today: Today, the Pit Bull is the new dangerous dog. It has the girth of a Rottie, but half the size. That makes it a seemingly easier dog to care for (big dogs take up a lot of space!), but because of their sordid past, the reputation of the Pit Bull seems to surpass any of the other breeds. Anyone who's ever owned a Pit Bull, however, will be quick to tell you that this dog is far from dangerous. He's a lapdog despite being a bit too big for that role. He's careful around babies, obsessed with playing, and is oftentimes the one to step back if a dog-to-dog altercation ensues.
Pit Bulls with a vicious streak were made that way, by an owner, somewhere along the way. Just like all the other dogs on this list, the Pit Bull is a victim of overbreeding, poor breeding, and bad media attention. But just like the other breeds listed, the Pit Bull is nothing more than a dog, who, like a ball of clay, is ready to be shaped by his owner.